The 2014 Nissan GTR is one of the most amazing cars – faster then 10 times the cost. The Nissan GTR sports car is built with advanced aerodynamics, flesh with the body designed to make the car stick to the road. 2014 Nissan GTR models are built with a  V6 545 horsepower engine that is built incredibly durable. The GTR's 6- speed automatic transmission is not offered in any other option because its one of the most sophisticated transmissions.
0 to 60 MPH in 2.9 Seconds.
1/4 mile in under 10 seconds.
0 to 100 MPH back to 0 in under 9 seconds.
2014 Nissan GT-R Inventory         2014 Nissan GT-R Model Page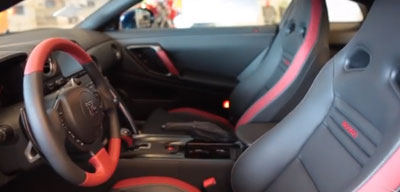 Each of its counterparts are built equally as dynamic, suspension, brakes and tires tie together to make the GTR as fast as it is.  The Nissan GTR is also built with paddle shifters to give the drive and spirit of race car driving.
2014 GT-R models have fully adjustable suspension that can be changed from settings of a race car or a street car, helpful to not wear yourself or the GT-R out. The interior design of the seats are built to hold you in even while topping at max speeds.
Because performance is key, the GT-R is standard with features like a Bose audio system and Navigation. The GT-R Black Edition as seen in the video gets special lightweight raised wheels, bigger breaks and better tuned suspension and hand made carbon fiber spoiler.
Visit our Kingston Nissan dealership to see the 2014 GTR in NY for yourself. Stop by and take a spin in the Nissan GT-R sports car and see its unique features.