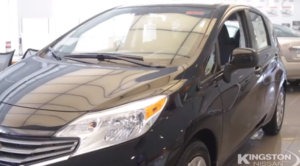 The 2014 Nissan Versa Note is built with a 1.6L CVT and gets up to 40 MPG. The headlights on the car are blended for better fuel economy and aerodynamics. The back seat has 60/40 split seats so that you can have extra cargo space from front to back in the trunk.
Versa Note models have ample head and leg room along with air conditioning, radio power windows and locks. The leather wrapped steering wheel has radio controls, volume, channel and Bluetooth radio technology controls.
Without moving the front seat you can comfortably fit an adult passenger in the backseat without every having to move the front seat for the driver. We encourage you to stop by our Kingston Nissan dealership and give the 2014 Versa Note in NY a test drive!