Welcome to Kingston Nissan! Our exclusive 2015 Nissan GT-R tour will reveal all the great features this hot performance coupe has to offer. From its captivating interior and exterior to its superior handling and performance, our Nissan GT-R will show you why this is not just a Supercar – it's THE Supercar.
The 2015 Nissan GT-R is available in three trims – Premium, Black Edition and NISMO. The Black Edition 2015 GT-R as seen in our tour is available in four-wheel drive or all-wheel. Offering plenty of power, the 545 horses under the hood of the 2015 Nissan GT-R will get you 0-60 mph in 2.86 seconds. This 3.8-liter twin-turbocharged V6 engine will get you where you want to go…quickly.
2015 Nissan GT-R Tour – Performance Details
Follow our 2015 Nissan GT-R tour as we show you why with a performance coupe like this, it's all about the tires. The premium package will provide you with 20-inch RAYS® wheels and the black edition featured in our video tour will get you the special dark finish wheels. Built for the purist, the 2015 GT-R Black Edition offers a handmade, dry carbon fiber rear-spoiler that provides a significantly lighter and stiffer. Who said carbon fiber only comes with the space shuttle?
The primary competitors of the 2015 GT-R are the Audi R8, Corvette Stingray, Viper and the Porsche 911 Turbo. While all are close in horsepower and torque, the 2015 Nissan GT-R exceeds all with an all-wheel-drive system that is second to none – and is lowest in price point! The ETS AWD system gives you 100% of power and torque to the rear wheels and 50% for the front wheels, providing you with a comfortable acceleration.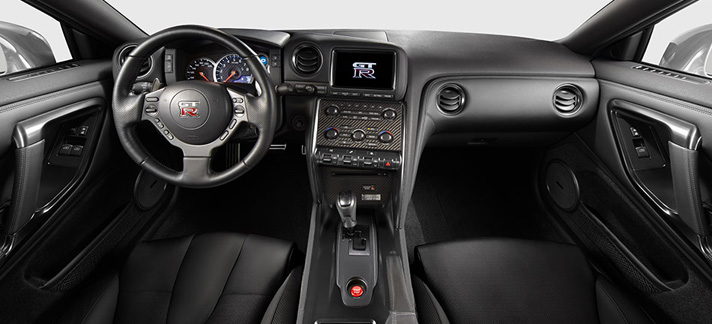 Our 2015 Nissan GT-R Tour Moves Inside
As we move our 2015 Nissan GT-R tour inside, you will see some of the unique features the GT-R has to offer. Besides your audio controls and Bluetooth, the steering wheel features paddle shifters that allows you to shift 13 times a second, giving you that performance feel. The driving modes of the GT-R are very unique, allowing you to customize your transmission, suspension and vehicle dynamic control set-up, allowing you to fine tune your driving experience. In the GT-R, it's all about the details. The Black Edition as shown in our Nissan GT-R tour features hand-stitched leather-appointed Recaro seats that will contour your body – even at the highest of speeds.
Thank you for following us on our exclusive Kingston Nissan GT-R tour, and have appreciate the fine craftsmanship of this performance coupe. If you have a passion for stupefying acceleration and desire a performance coupe, with a far lower price point than its competitors – the 2015 GT-R is the car for you!