Follow Kingston Nissan Commercial Sales Rep George McEvoy as he introduces the 2016 Nissan NV3500 S High Roof Cargo Van. Our exclusive walkaround video will show why the NV3500 is the perfect commercial vehicle for all your small business needs.
2016 Nissan NV3500 S is Loaded With Possibilities
Our walkaround features the 2016 Nissan NV3500 S  high roof with a powerful V8 engine, but is also available as a 1500 or 2500 model and with a V6 engine. Our featured V8 engine offer 317 horsepower, and comes with a 5-Year 100,000-Mile Warranty. The 4.0L V6 engine offers 261-horsepower and a 7,000-lbs maximum towing capacity, or bump up the power with the 5.6L V8 for a maximum towing capacity of 9,500 lbs.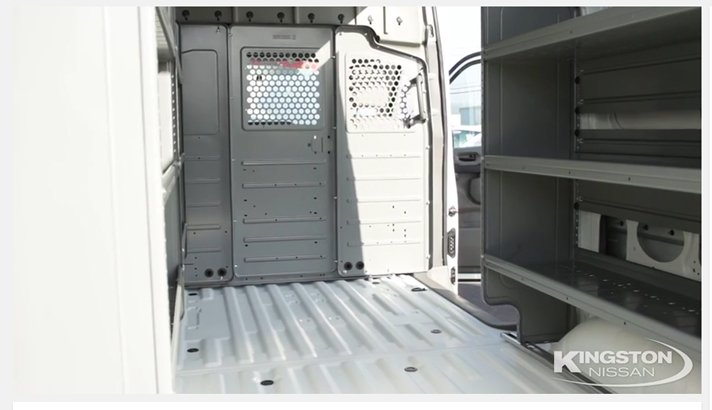 Designed For the Way You Work
This 2016 Nissan NV3500 S is the basic package, but don't let it fool you – it's loaded with features that are perfect for the general contractor. Power windows, locks and mirrors, cruise control, am/fm cd player, and tow mode are all standard features for the NV3500 S. Additional features in the NV3500 S that contractors will appreciate are the six floor-mounted D-rings in cargo area, 36 integrated reinforced cargo-mounting points for custom shelving, and ten integrated reinforced mounting points in ceiling for interior ladder rack installation. These handy features allow you to upfit your cargo van to fit your business needs.
Helping to keep your personal papers and items close at hand but neatly organized, the 2016 Nissan NV3500 S in our video offers plenty of overhead storage space. Commercial business owners will appreciate the ability to keep estimates and papers close at hand, without the clutter in the cabin.
Versatile and Easily Accessible
Small business owners and contractors will benefit from the versatility that the Nissan NV Cargo Van offers in NY. Whether you're a plumber, electrician, landscaper or caterer, the Nissan NV3500 S can be customized to fit your personal business needs. Enjoy easy access to your supplies with rear cargo doors that swing all the way around and magnetic bumpers that hold the doors open in place.
Easily enter and exit the cargo area of the NV3500 with convenient grab handles, and at 22 inches off the ground its easier on knees. No need to crouch inside the NV3500, inside the high roof offers a height of 6 ft 3 inches.
Step Into Your Mobile Office
Thank you for taking the time to view our 2016 Nissan NV3500 S High Roof Cargo Van and experience some of the great features that make this cargo van perfect for business owners. Kingston Nissan can help you get into this mobile office and you can start experiencing the benefits of this workhorse today. Our commercial Nissan dealership is located on Route 28 in Kingston, New York that's conveniently located near the Poughkeepsie area.