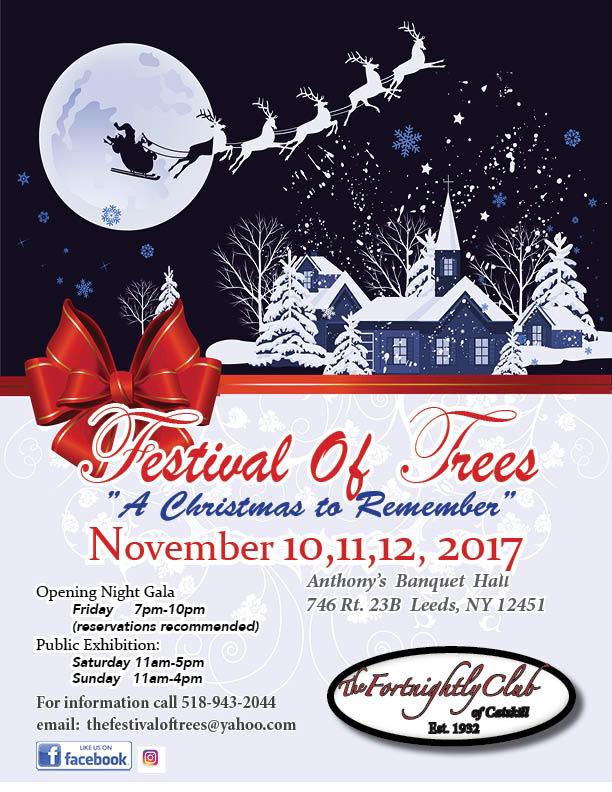 The 2017 Festival of Trees "A Christmas to Remember" is coming up really soon and Kingston Nissan is proud to be a sponsor of this great event that gives back to the community!
Being the 22nd of its kind, the 2017 Festival of Trees is happening on Saturday November 11 from 11 am to 5 pm and on Sunday November 12 from 11 am to 4 pm at Anthony's Banquet Hall (746 Route 23B) in Leeds NY. Admission costs $4.
The event will kick off the holiday season by offering:
A silent auction for the beautiful trees & wreaths on display
A cafe for lunch, snacks and refreshments
Raffles for a variety of prizes
Live entertainment
Santa Claus
There will also be an opening night gala that will occur on Friday November 10 from 7-10 pm at Anthony's Banquet Hall and reservations are recommended.
All proceeds from the 22nd Festival of Trees fundraiser will be given to the Fortnightly Club of Catskill towards their charitable giving efforts in our community. Those include:
Scholarships to local community college
Scholastic awards for K12 students
Community youth events
Summer art program for kids
Holiday gifts for children & the elderly
Sports teams & events
Theater presentations
Playground maintenance
To get more information about the 2017 Festival of Trees, please email thefestivaloftrees@yahoo.com or call (518) 943-2044.