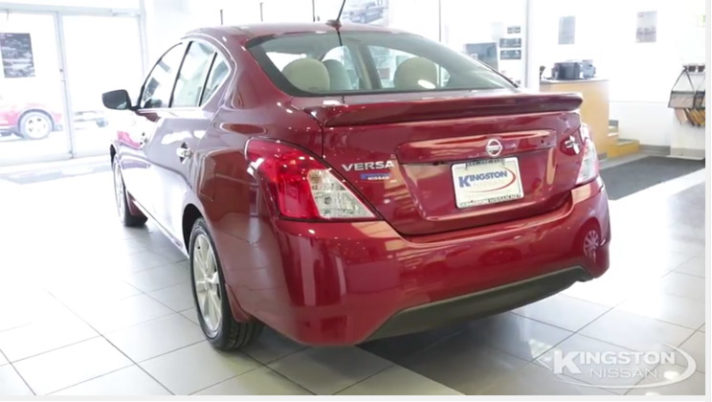 Follow Kingston Nissan's Rob Rolleri as he walks us through some of the great features of the 2017 Nissan Versa Sedan. Available in 5 well-equipped models, our exclusive Kingston Nissan walk around video will show you why the Versa Sedan is still the best-selling car in it's class.
2017 Versa Sedan S
2017 Versa Sedan S+
2017 Versa Sedan SV
2017 Versa Sedan SV Special Edition
2017 Versa Sedan SL
2017 Nissan Versa Sedan Features
The 2017 Nissan Versa Sedan fuels your adventure while still capable of reaching up to 39 miles per gallon on the highway. Capable of going further than competitors including 2017 Chevy Sonic, Ford Fiesta and Hyundai Accent on a single tank of gas, the Versa Sedan is a great commuter vehicle. Fuel-efficient doesn't mean you have to sacrifice power, as the 109-horsepower engine gives you all the pep you need.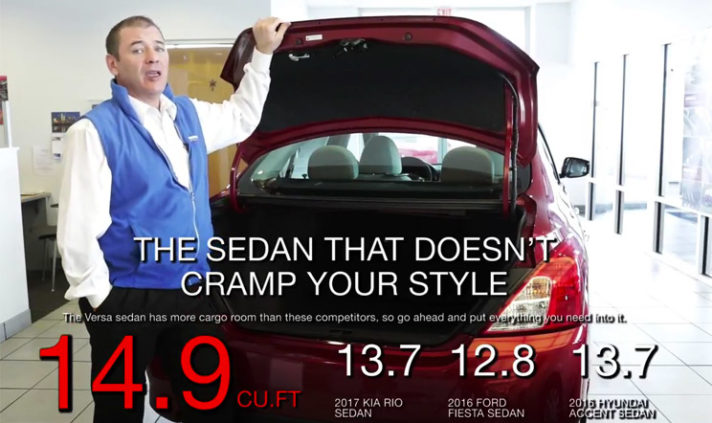 The 5-passenger 2017 Nissan Versa allows you to take the family and everything you will need for your next adventure, with impressive rear leg room and cargo room. Passengers will sit comfortably with more rear legroom (37″). Going to-to-toe with rivals, Versa Sedan offers more than the 2017 Chevy Sonic that offers 34.6″, Hyundai Accent Sedan providing 33.3″ and Ford Fiesta having 31.2″.
When it comes to cargo space, the Versa Sedan comes out on top there also. No reason to leave it behind, the Versa offers 14.9 cubic feet of cargo space – more cargo room than competitors including the Kia Rio, Ford Fiesta and Hyundai Accent.

The 2017 Nissan Versa Sedan allows you the option to personalize your Versa to fit your needs and personality with loads of accessories to choose from such as:
Accent lighting
Chrome door handles
All-season floor mats
Illuminated kick plates
And more!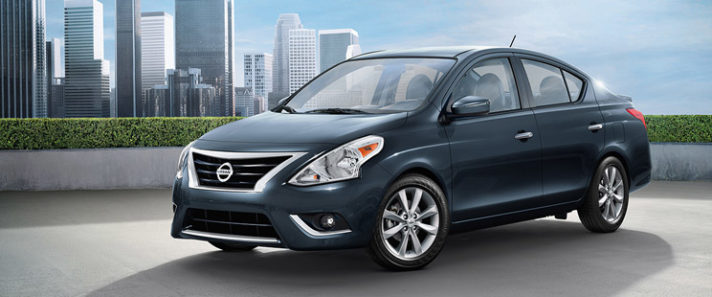 Along with all these great features that makes the 2017 Nissan Versa Sedan in its class, last but not least, the Versa offers the lowest cost of ownership over the course of 5 years. Family car, commuter car or first car, the Nissan Versa is a great pick! Head to Kingston Nissan located in the Mid Hudson Valley and test drive one for yourself. Our Nissan dealership serving Newburgh, New York offers low lease payments and low APR financing, so get you behind the wheel of your 2017 Versa today!
View Our Versa Sedan Inventory