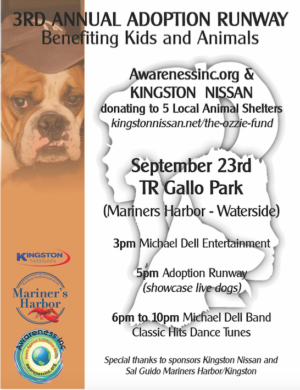 We are proud to be a sponsor of the 3rd Annual AWARENESS Adoption Runway taking place on Friday September 23, 2016 to benefit the kids AWARENESS helps and animals from the 5 shelters we're giving back to through the Ozzie Fund.
The 3rd Annual AWARENESS Adoption Runway will be taking place at T.R. Gallo Waterfront Park, located on West Strand Street right next to Mariner's Harbor – Waterside in Kingston.
The event starts at 3 pm with music from Michael Dell Entertainment until 5 pm when the runway begins, with the showcase pets being available for adoption.
The Michael Dell Band will be performing classic hits and dance tunes from 6-10 pm. Requests are available all night and cost only $10, all of which goes right to the kids and animals the 3rd Annual AWARENESS Adoption Runway is supporting.
What is AWARENESS?
AWARENESS, short for Assisting With Adolescents Resolving Empowering Nurturing Each Student Substantively, has been helping the youth in Ulster County through a number of different programs since 2007.
Initiated by teens, the AWARENESS Mentor Program promotes prosocial skills to middle school-aged kids by providing activities that are healthy alternatives to drug and alcohol use.
The AWARENESS Education Program uses peer-to-peer education to help high school students pages 16-18 and college students ages 18-21 teach others about substance use, abuse & addiction.