http://www.youtube.com/watch?v=zCgibrhQvSw
Incredible Offers during the Altima Ride of Your Life Event
The 2014 Nissan Altima offers the power to get you recognized. Picture yourself in a race car with your helmet on, 5-point harness snug and your body feeling the exhilaration as you race around a one mile track yelling "Hell Yeah!". As the force pulls you into your zero-gravity seat, your body reacts with sheer excitement – the type that you wish you could bottle. The Catch? Well, we lied… about the race car part.
If you have ever dreamed of riding in an advanced race car, Kingston Nissan in NY invites you to sit back, buckle up and get ready to experience the Altima Ride of Your Life. The exhilarating performance of the the 270 horsepower 2014 Nissan Altima was enough to make these unexpected passengers believe that they were truly riding shotgun in one of Nissan's most advanced Altima race cars.
Altima Ride of Your Life: Focused on Performance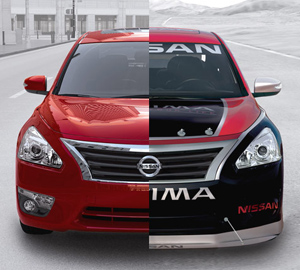 Would you ever imagine a sedan could offer such dynamic and inspiring performance? Pop the hood and you may expect to find turbos and tubes everywhere, but inside you will find a sleek and powerful 3.5L V6 that provides a healthy 270 horsepower, or the fuel efficient 2.5L 4 cylinder providing 38 highway MPG. Allowing the transmission to operate more effectively, Altima paired its engine with the Xtronic Continuously Variable Transmission (CVT) which responds with the perfect engine speed that your right foot is calling – producing a strong, seamless acceleration. Controlling the power is a breeze with the manual mode paddles shifters that put the control right at your fingertips offering a more refined ride. Let the Altima Ride of Your Life give you that rush of adrenaline that shows off the performance DNA that lives inside every Nissan.
Offering a more focused and responsive ride, the 2014 Nissan Altima is equipped with Active Understeer Control. Sensing understeer and oversteer, the system subtly applies braking power to the inside wheels when you are turning, giving sharper handling in various conditions. And getting behind one of these super sport sedans was never easy, with incredible offers on an unforgettable ride.
With a large inventory of in stock 2014 Nissan Altima, Kingston Nissan in NY is sure to have the Altima that best fits your needs and budget. And with low apr financing rates and specials on an Altima Lease, Kingston Nissan will have you experiencing the excitement without breaking the bank. If you like what you see, and are asking yourself "could this be my car?" – the answer is YES! So head to Kingston Nissan in NY and experience the head-turning style and attention-grabbing performance of the 2014 Nissan Altima Ride of Your Life. With Innovation that Excites, all eyes are on you. Do YOU have what it takes?
2014 Nissan Altima Sedan Inventory | Schedule a 2014 Nissan Altima Test Drive