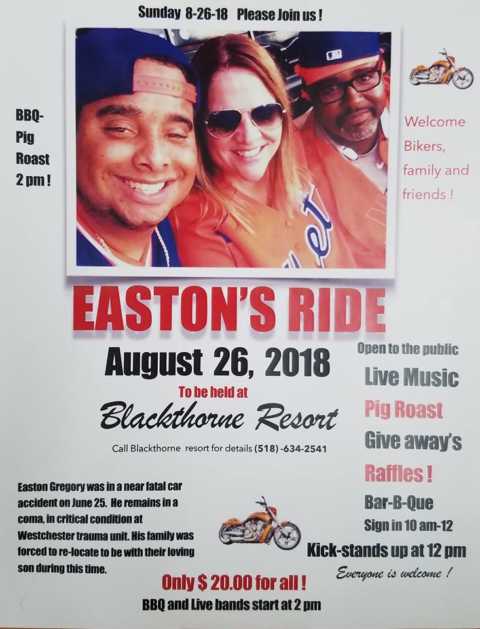 One of our own is in need. We were shocked by the horrific news that Kingston Nissan sales consultant Easton Gregory is in critical condition after being in a car accident on June 25th after a usual work day.
He's still on a ventilator, ECMO and dialysis with his parents renting an apartment 2 hours away to be a hospital close to him to be by his side.
That's why we decided to show support for Easton and his family through the #EastonStrong movement. Part of this campaign is selling wristbands with the #EastonStrong hashtag on them at our dealership for $5 and giving all of that money to the Gregorys.
Another part is the Easton's Ride fundraiser that we're supporting on Sunday August 26th at Blackthorne Resort (348 Sunside Rd) in East Durham NY, with sign ins going from 10 am to 12 pm, the event starting at 12 pm and the entertainment beginning at 2 pm.
Easton's Ride will feature a BBQ pig roast, live bands and giveaways & raffles with prizes including a fully-paid Nissan Rogue lease from Kingston Nissan. The cost of admission is just $20, which will all go to Easton Gregory & his family during their time of need.
Between his parents uprooting their lives to be by Easton's side and Easton's numerous injuries including 12 broken ribs (that have since been plated), collapsed lungs, numerous perforations, a lacerated liver, a damaged pancreas, pneumonia & sepsis, the Gregorys need a helping hand.
As of this post's publishing, the GoFundMe campaign started up is about halfway to its goal, so we hope you can give a little even if you can't make it to Easton's Ride up in the Northern Catskills. We're all hoping for a speedy recovery for Easton.
Donate to Easton's GoFundMe