Congratulations to the winner of the Kingston Nissan Doodlebug, you've made a great contribution to the Washbourne Home in Ulster County!
The auction has ended, thanks for participating!! …However, we're still accepting holiday donations!
Our Kingston Nissan dealership will be auctioning the Doodle Bug to benefit the Washbourne Home. The Washbourne Home provides services for victims of domestic violence. The Washbourne Home's goal is to provide alternative living for those in a violent situation and to offer education and other resources necessary for victims to make healthier choices for themselves and their families.
Bid or Donate Now Share This on Facebook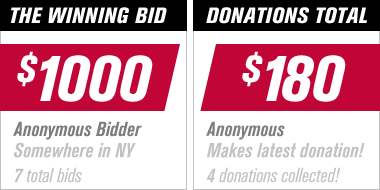 The Washbourne House provides services for the community including an Emergency Shelter, Food Pantry, Advocacy, 24 Hour Hotline, Outreach, Peer Support Groups, Volunteer Program and Community Education Awareness. Use the simple form below to let us know you'd like to donate to the Washbourne Home or to bid on the Doodlebug! We appreciate everyone's participation and hope we can raise funds for this great non-profit organization in our community! 100% of the donations and winning bid will go to the charity!
See the Doodlebug in Action!
What's a Doodlebug?
A Doodlebug is an altered car or truck that was popular in the 1930's to 1960's and is currently popular for rural farm families to build and use like the modern day ATV.
The Doodlebug is designed to pull almost anything!
Our Kingston Nissan Doodlebug is a 1952 Chevy Bullnose 1 ton truck with a flathead straight 6 cylinder motor.  The Doodlebug's frame has been cut and shortened. The Doodlebug has the original engine, transmission and rear end (which is an 8 bolt rear end). The Doodlebug is in great shape and the brakes, clutch and engine are all working properly. This is not a road worthy vehicle, and is simply for recreation. It will be auctioned to the highest bidder in "as-is" condition with no warranty. Please consider a bid to benefit a great charity!
You can Still Pledge a Donation Below