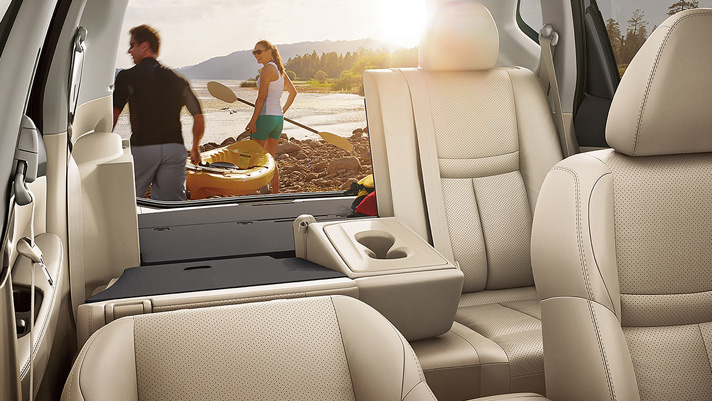 Kingston Nissan offers you some Nissan service tips on getting your car, truck, crossover or SUV ready for summer road trips. Summer vacation is fast approaching and these helpful Nissan service tips to give you peace of mind and help make your holiday travel a safe & worry-free driving experience.
Kingston Nissan Service Tips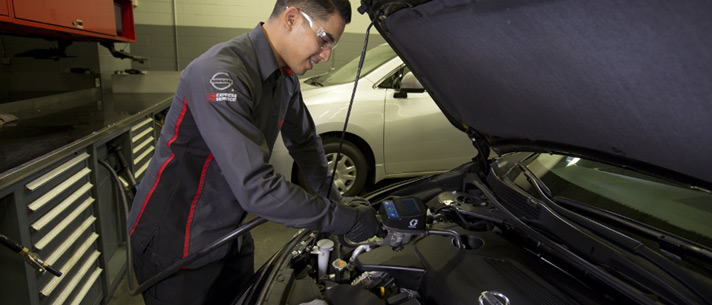 Nissan Service Tip #1: Oil Change and Filter Replacement
To be sure your Nissan vehicle's engine is working to it's potential, keep up with oil and filter changes periodically throughout the summer. Before taking long summer road trips, check your vehicle's oil. Oil and filter changes are essential to the long-term durability of your engine, and properly maintaining your vehicle's oil and filter will allow you to achieve the best fuel economy.

Nissan Service Tip #2: Check Air Filters, Hoses and Fluids
Winter months can take a toll on your vehicle, so check under the hood to ensure your Nissan vehicle's hoses and belts have not become cracked, loose or frayed. Check and replace your cabin's air filter if necessary, a dirty air filter can waste gas and cause your engine to loose power. While you're under the hood of your Nissan, now is the time to check your vehicle's fluids and top off or flush & replace fluids including antifreeze/coolant, windshield washer fluid, power steering fluid, power brake fluid and transmission fluid.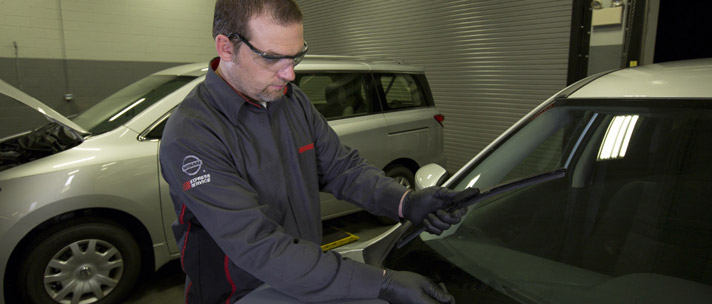 Nissan Service Tip #3: Check Wiper Blades
Along with windshield washer fluid, check your vehicle's windshield wiper blades to be sure you're wiper blades are functioning properly. If your wiper blades are deteriorating or the rubber is cracking, your wiper blades can create streaks that can cause your vision to be obstructed. In inclement weather, properly installed wiper blades are a key component to your driving safety.

Nissan Service Tip #4: Check Your Battery
Bring in your Nissan vehicle to have our certified service technicians tests your vehicle's battery to ensure it is ready for your next road trip. Our technicians use professional diagnostic equipment that can test your battery's performance. If your find your vehicle is slow to start or your dashboard battery warning light stays illuminated when your vehicle is running – don't wait. Bring your Nissan in to help avoid a potential hazard.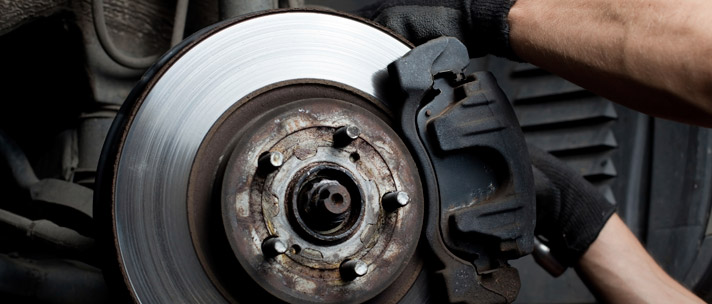 Nissan Service Tip #5: Check Your Brakes
When it comes to safety, properly maintaining your Nissan vehicle's brakes are at the top of the list. Warning signs that your brakes need attention include vibration, brake noise, or taking longer for your vehicle to come to a complete stop. Before taking long road trips, be sure to check your vehicle's brakes, rotors, calipers, drums, brake pads and brake lines. Check your vehicle's manual or visit our Mid-Hudson Valley Nissan service center location to see what type of brakes your Nissan has & what the recommended mileage is for replacement.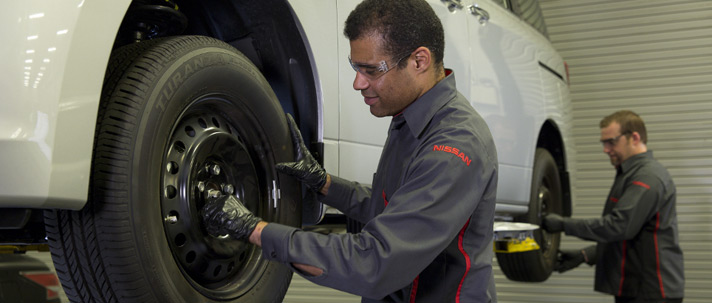 Nissan Service Tip #6: Check Your Tires
Check your Nissan tires for condition of the tread and be sure your tires are properly inflated to the required tire pressure. Improperly inflated tires reduce your vehicle's fuel efficiency and if your tires are worn, have bald or bulging spots you run the risk of a blow out or flat tire. Properly maintained tires provide better traction, steering & control over your vehicle – as well as improving your fuel efficiency. Regularly rotate your tires to ensure your tires wear evenly by rotating them to serve both the front and rear positions to assist in evening out the tire wear.
Keep in mind, as the outside temperature rises the air in your Nissan's tires expands as well. So be sure to check your tire pressure before you set out on a road trip, and be sure to check the recommended tire pressure of your vehicle's tire to ensure you get the most from your tires.
Get Your Vehicle Summer Road Trip Ready
Our Ulster County Nissan service center location offers the services you need to make sure your car, truck, SUV, or crossover is ready for your next summer road trip. Whether your Nissan Sentra needs an oil change or your Nissan Altima needs to have its tires rotated, our certified technicians use the latest diagnostic and repair equipment.
Our service department is certified, fast and efficient – getting you on the road quickly and making sure our customers have the best Nissan Service experience in New York. Be sure to check our Service Specials for savings.