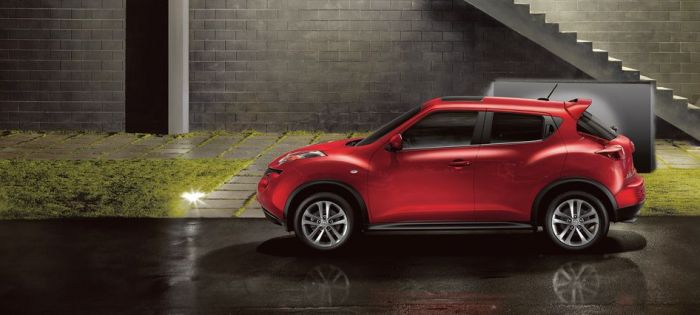 The 2014 Nissan Juke is in Kingston, New York and still in stock here at Kingston Nissan! The argument between your mind and heart between an SUV or an adrenaline rush of a coupe doesn't have to exist anymore thanks to the 2014 Nissan Juke in Kingston, NY! The 2014 Nissan Juke blends the sporty look and power of a coupe, with the fuel efficiency and space of an SUV for the perfect balance. And, unlike a coupe, the 2014 Nissan Juke is available in AWD, perfect for non summer months! In addition to the sporty look and feel, and SUV efficiency and space, you can also look forward to many technologies that will make you wonder how you ever lived without them, like the available Push To Start. The 2014 Nissan Juke won't last long in Kingston, NY, so come by for a test drive today!
If You Want Sporty, You Want The 2014 Nissan Juke in Kingston, NY
Yes, it's a crossover, but more of a Sport Crossover than anything! In Kingston, New York, the 2014 Nissan Juke sports 370Z inspired taillights, aggressive lines and a fiercely sculpted hood for an appearance no one can mistake, or look away from. The looks of a curvaceous coupe were combined with 4 doors to make the 2014 Nissan Juke perfect for someone who never settles. But, settling into those bucket seats and not getting out for a while sounds like a good idea.
Stealth and Power With The Options You Need
If you're wondering why the 2014 Nissan Juke is more of a sports car in SUV form, there's a few reasons. One of them, in Kingston, NY your 2014 Nissan Juke is powered by a 1.6L Direct Injected DOHC 16 valve 4 cylinder engine. It's a huge title, but it gives you 188 horsepower and 177lbs-ft of torque, so who cares how long the title is! Plus, you sound fancy telling everyone about your engine, can't beat that. From there, the engine is paired with Nissan's newly famous CVT, or continuously variable transmission with Sport Mode. On each of the three models, the S, SV and SL, AWD is an appreciated option, so when the incredibly awaited Summer is over and Winter comes back around, you'll be ready for the snow in Kingston, New York with your 2014 Nissan Juke! Enough with the snow, back to being optimistic.
That temptation for a coupe when you need an SUV, there's a fix for that, and it's the 2014 Nissan Juke in Kingston, NY! Sporty feel, sporty power, sporty seats and efficiency of an SUV come together in the 2014 Nissan Juke to put all of your wants together with your needs. Come see us at Kingston Nissan to test drive the 2014 Nissan Juke, and be ready to fall in love!