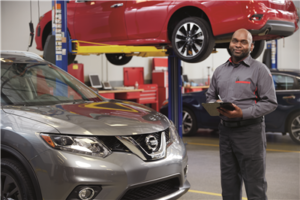 Did you recently purchase a new or certified Nissan from our dealership? Are you loving the features or your car but unsure of some of the mechanical aspects?
Then, we invite you to attend the New Owner Car Care Clinic that we'll be hosting at our dealership location (140 Route 28 in Kingston NY) on Thursday November 17, 2016!
The event starts at 6 pm and will be hosted by the Kingston Nissan service team.
Our Nissan-certified technicians will teach you the basics about maintaining your car, ranging from how to change a tire to which routine auto maintenance services are recommended when your car hits a certain mileage. They will also be here to answer any questions you may have about your vehicle.
If you are interested in attending this completely complimentary demonstration, please contact Jennie Brown at Kingston Nissan by either emailing her at jbrown@kingstonnissan.net or giving her a call at 845-338-3100. We look forward to seeing you at our New Owner Car Care Clinic!