Follow our Nissan NV200 Cargo Van custom video as we show off the possibilities this compact workhorse has to offer. The NV200 van packs a 131-horspower 2.0 liter DOHC 4-cylinder engine that delivers 139 lb.-ft. of torque, while obtaining a combined EPA-estimated 25 mpg – giving you more time on the road and less at the pumps. Compatible to the Transit Connect in class, the NV200 comes equipped with an automatic CVT Transmission which the Connect does not offer. A key feature to this Front wheel Drive van is its 36.7 ft turning diameter, combined with responsive handling that makes this van perfect for tight city streets and even tighter parking spaces.
Nissan NV200 Cargo Van | Loaded With Possibilities.
One look at the interior space of the Nissan NV200 Cargo Van and you can see the spacious interior that this compact van holds. Our video review will show you some of the options that are available to you, as well as review the options on the NV200 cargo in our video.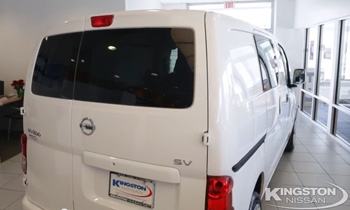 The NV200 in our video is shown with 60/40 split rear doors, with the curb side having the 60 swing door for easy access to your cargo without interfering with passing traffic. As you can see, the vehicle is approximately 19 inches off the ground which makes it easier for those who are in-and-out of their vehicle, and a benefit for loading cargo. Keeping your cargo safe, inside there are Six available floor-mounted D-rings help keep your cargo locked down. With 180° of movement, this van makes it easy to secure packages, deliveries and more. On the inside walls you will find mounting points. These 20 interior integrated cargo mounting points are designed to help you customize your NV 200 Cargo Van with racks, bins and shelves to keep your equipment and products safe, secure and organized.
The cabin of the Nissan NV200 Cargo is also designed to help keep you organized with a flexible console that is large enough to hold a laptop and an under-the-seat drawer helps keep things organized while easy reach. At the top of the dashboard you will also find a slot for holding papers as well as a center console capable of holding hanging files, keeping everything neat. With a cabin designed to behave more like an office, the NV200 gives you the space, conveniences, and connectivity you need to get the job done. Whether you are a contractor, delivery service or other small business, the NV200 interior can be customized to work best for your specific company needs.
Big On Space
The cargo space of the Nissan NV200 offers 6+ feet from the rear doors to the back of the passenger seats, as well as 48 inches between the wheel-wells. This vehicle may be compact but packs a whopping 122 cubic feet of space, including flat wheel wells and a low load floor height. The NV200 is long enough to fit a 6-foot ladder, wide enough to hold a standard 48-inch pallet. When duty calls, hit the road in a van that's designed to get your company noticed.


Learn More About The NV200
Thank you for following us on our exclusive Kingston Nissan NV200 Cargo Van tour, and have enjoyed all the possibilities this compact van has to offer. If you have a small business and could benefit from a mobile office with an abundance of cargo space – the 2015 NV200 is the cargo van for you!
Kingston Nissan, Real People – Real Deals.