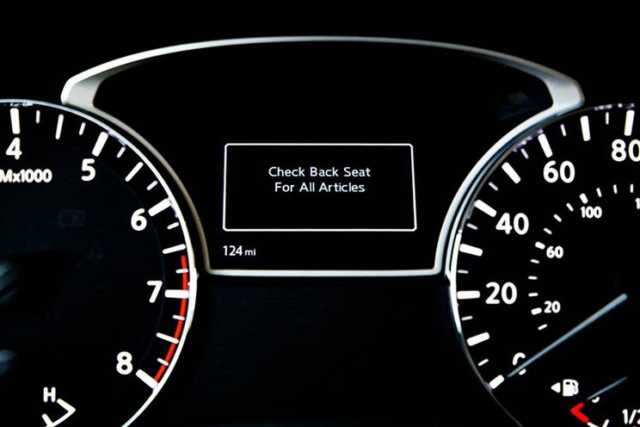 Sometimes, we're in a rush and forget that certain important item in the backseat. A spoiled leftover lasagna inspired 2 moms and employees at Nissan to pitch the idea for a technology to let people know to take a look in the backseat before leaving their vehicle for their errand or the evening. That's where Rear Door Alert comes in.
Whether it's your laptop, your kid's favorite toy or some food you decided to bring home, this system can remind drivers to check their rear seat after the vehicle is parked with Rear Door Alert. A first of its kind, using a series of distinctive honks as the driver is walking away from the vehicle, reminds drivers to check for anything they may have forgotten in the rear seat.
Life can be hectic, so let Nissan's Rear Door Alert help reduce concerns.
See the Rear Door Alert System in Action.
How Rear Door Alert Works
Nissan's Rear Door Alert monitors the rear door switches to detect their open/closed status prior to and after a trip. If the system detects that a rear door was opened/closed prior to a trip & then was not re-opened again after the trip was completed, given the vehicle was put in park and the ignition off, the system responds with a series of notifications.
First, a display in the instrument panel alerts the driver to "Check Back Seat For All Articles" and progressing to distinctive honks of the horn. The Rear Door Alert honking cue is similar to Nissan's Easy Tire Alert System. Choose from an audible alert, visual and audible alert or choose to disengage your Rear Door Alert System.
By drawing your attention back to the vehicle with an audible alert, once you've walked away, passengers are more likely to recheck the back seat than with a visual alert alone. Whether to put a child or a package in the rear seat, the vehicle will help alert you when you get to your destination that you may want to check the rear seat of your Nissan.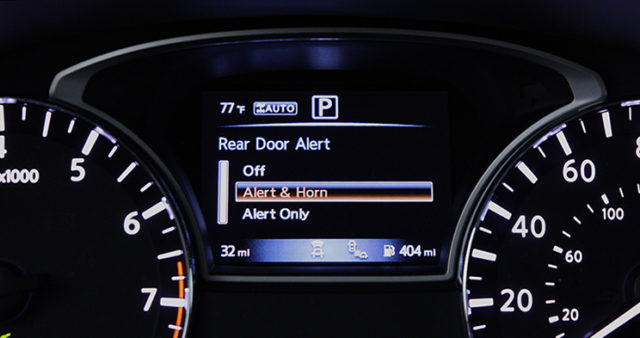 The first application of the Rear Door Alert system will be found in the 2018 Nissan Pathfinder. In addition to that technology, Automatic Braking System and 6 USB ports, the new 2018 Nissan Pathfinder also offers Automatic Emergency Braking, the new Midnight Edition appearance package, 2 new exterior colors – Scarlet Ember & Midnight Pine – and more updates.
Let Rear Door Alert help reduce the concerns of leaving forgotten items in the back seat. While no system is perfect and can't replace driver awareness, the Nissan Rear Door Alert is there as a gentle reminder to check your back seat from the time you leave our dealership until you decide to return your lease or sell your vehicle.