#AltimaWeekendContest Details
Where did their Altima Weekend take them each of the four weekends? #AltimaWeekendContest. Guess correctly and you could live out one of the four weekend adventures! Play along and watch each video, then see if you can guess where the couple went on each adventure.
#AltimaWeekendContest | Weekend Adventure 1:
#AltimaWeekendContest | Weekend Adventure 2:
#AltimaWeekendContest | Weekend Adventure 3:
#AltimaWeekendContest | Weekend Adventure 4:
SOLVE THE ROAD TRIP MYSTERY FOR A CHANCE TO WIN!
Step 1: Watch an Altima video adventure
Step 2: Identify the souvenirs
Step 3: Use them as clues to figure out the 5 destinations they visited on their road trip
Step 4: Tweet your answer using #AltimaWeekendContest
Step 5: Watch next video and repeat steps 1-4!
Learn More About #AltimaWeekendContest
Nissan Altima: The Ultimate Road Trip Vehicle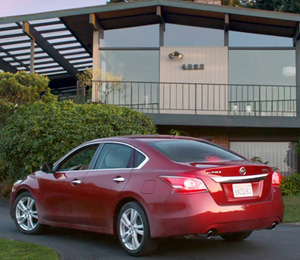 The 2015 Nissan Altima comes standard with a 182-horsepower 2.5L 4-cylinder engine that provides 38 mpg highway fuel economy, which is perfect for those long trips.
In the 2015 Nissan Altima, you can drive confidently knowing that your vehicle is equipped with safety features that include anti-lock brakes, stability and traction control, front side airbags and side curtain airbags. Safety ratings a priority? Check the crash-test scores; they're nearly perfect across the board. In government crash testing, the Altima sedan received a perfect five stars for overall crash protection, with five stars for total frontal impact safety and five stars for total side impact safety.
The available NissanConnect with Navigation and Mobile Apps keeps you in touch with the outside world, even during those weekend getaways. NissanConnect uses hands-free technology, your smartphone, and your display screen to help you navigate your way through city streets or country lanes, play your favorite music from your iPod or MP3 player, and even keep tabs on your social network.
And hands-free technology means you can stay connected while safely keeping your eyes on the road ahead whether you drive up to Canada or down to NYC and beyond.
Visit Kingston Nissan today and test drive the 2015 Altima and get ready for it take you to unexpected places. While your weekend road trip my last from Friday at five 'til early Monday morning, your memories will last a lifetime! Test drive the Altima today and find out why the Altima is Nissan's best-selling vehicle and one of the top-selling cars in the United States.