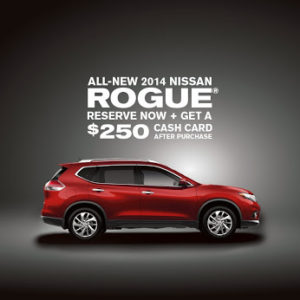 Reserve your 2014 Nissan Rogue Crossover now and get a $250 cash card after purchase!*
All you need to do is submit a Kingston NIssan request and purchase a Rogue through the Nissan USA Reserve a Rogue Site and you'll be eligible to receive a $250 Cash Card*
Interested in the 2014 Nissan Rogue? Eligible candidates will receive a $250 card – all you will need to do is reserve the 2014 Rogue on or before November 12th, 2013, purchase or take delivery of the Rogue before March 31st, 2014 and submit a request by May 1st, 2014. After completing all of the necessary steps 2014 Rogue owners will be eligible to win a $250 Cash Card!
Once you submit your dealer request a Nissan Representitive from our Customer Service Call Center will con act you to offer assistance with the next steps in your Rogue Reservation.
Complete the form below if you have an additional questions or feel free to contact our Kingston Nissan dealership so we can help walk you through the process and help you get a $250 Cash Card for reserving your new 2014 Rogue Crossover in NY!
*Dealer request and Customer ID must be submitted on or before November 12, 2013. Vehicle must be purchased and delivery taken on or before March 31, 2014. Cash Card must be redeemed online on or before May 1, 2014. One Cash Card per unique Customer ID submitted. Customer ID's are non-transferable and cannot be exchanged or redeemed for cash. Please allow for up to 120 days for delivery of your gift. Offer void where prohibited. While supplies last. Offer not available to employees of Nissan North America, Inc., its parent, subsidiaries, and affiliates, its retailers, agencies, or family members of the foregoing. Nissan is not responsible for erroneous, lost, illegible, incomplete or misdirected mail.