The Nissan Sentra CVT (Continuously Variable Transmission) is an industry breakthrough when it comes to building fuel-efficient cars that doesn't compromise the cars performance. While other manufacturers are just starting to introduce CVT vehicles to their lineup, Nissan has made them available in their lineup for over 20 years. 2015 Nissan vehicles that offer the available CVT include;
Nissan Altima • Nissan Cube • Nissan Juke • Nissan Maxima • Nissan Murano
Nissan Pathfinder • Nissan Rogue • Nissan Sentra
How The Nissan Sentra CVT Works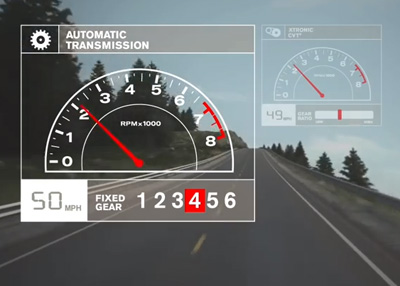 Gone are the days when manufacturers felt the answer to improved performance was to add gears, Nissan CVT virtually eliminates them. The Nissan Sentra CVT uses a single metal belt that runs around pulleys. Once a transmission isn't limited by fixed gears, as in the CVT, your vehicle can operate more effectively by responding with a perfect engine speed when you accelerate or decrease your speed.
When accelerating, conventional automatic transmission shift between set gears as the power builds, with the loss of power in between gears which is shown when the need drops. The power builds continuously in the Nissan Sentra CVT because the CVT chooses from a much wider range of ratios, allowing it to reach that "in between spot" that transmissions with set gears can't.
The new 2015 Nissan Sentra features the newest version of the Nissan CVT with key updates that provide an improved fuel efficiency. Some key updates to the Nissan Sentra CVT Next-Generation Xtronic CVT include;
More Compact, Lightweight Design
Approximately 40% Reduction In Friction
Approximately 15% Increase In Fuel Efficiency
One Of The Widest Gear Ratios In Its Class
Accelerates Faster
Runs Quieter
See Our Nissan Sentra CVT Inventory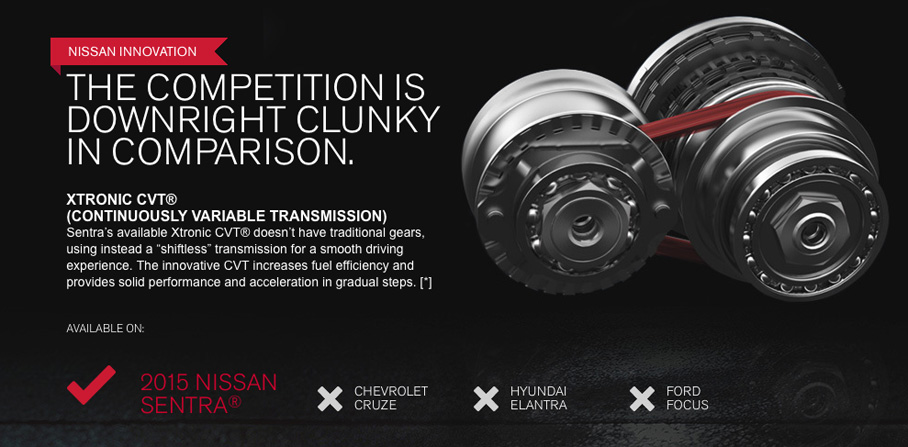 Nissan Sentra CVT Sets The Benchmark
For over 20 years Nissan has been constantly advancing its CVT technology – as a result, the latest Nissan Continuously Variable Transmission is setting the benchmark for automatic transmissions. The Nissan Sentra CVT offers amazingly smooth power and fuel-efficiency. The available Nissan Next-Generation Xtronic CVT guarantees that your Sentra is always running in the right gear. That means better fuel efficiency, smooth acceleration, and seamless shifting. Visit Kingston Nissan in Kingston, NY and experience the available Nissan Continuously Variable Transmission for yourself. Kingston Nissan has a large selection of new 2015 Nissan Sentra vehicles in stock to choose from, let us help you find the one that is right for you! For more information on the benefits of the Nissan Sentra CVT, fill out the form below and a representative will contact you to answer any questions.