**This article speaks on an older vehicle, but this feature is similar in the latest model, so this information still applies.**
Located in the center of the instrument cluster, follow us as we help you navigate, and understand the features of your Vehicle Information Display – even customizing it to your personal liking.
Your Nissan Vehicle Information Display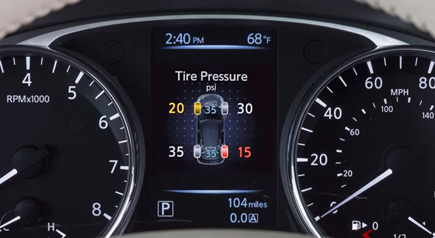 Hosting your vehicle functions and conveniently located between the tachometer and the speedometer, your Nissan Vehicle Information Display keeps you informed with your vehicle. The Vehicle Information Display displays items such as:
Vehicle Settings
Trip Computer Information
Drive System Warnings and Settings
Cruise Control System Information
Nissan Intelligent Key System Information
Indicators and Warnings (if equipped)
Tire Pressure Warning
If you would like to change your Nissan Vehicle Information Display to customize its features to display particular features, this can be easily done from controls conveniently located on your 2015 Nissan Rogue's steering wheel. To navigate through items and select or change an item, push the "ENTER" switch up or down or press the button with the square on it to enter menu items. If you need to go back to the previous menu, the "BACK" button (indicated with a back arrow) is conveniently located on the steering wheel – to the left of the button with a square on it.
Your Nissan Vehicle Information Display will provide you with a list of features when the ignition is in the "ON" position. These features include:
Fuel Economy
Trip Computer
Tire Pressure Information
Warnings, If There Are Any Present
Active System Status (if equipped)
AWD (if equipped)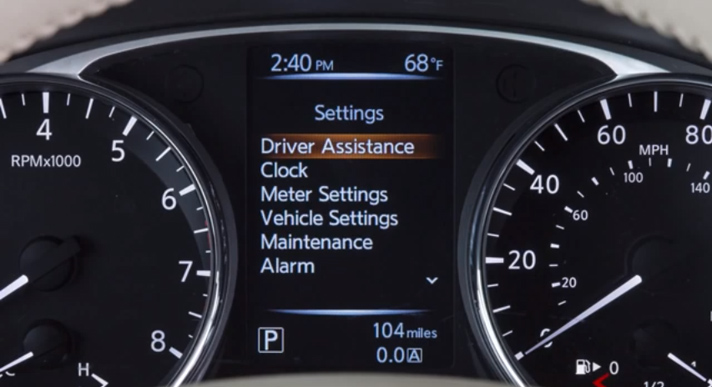 The SETTINGS mode will allow you to change the information that is displayed in the Vehicle Information Display. Using the ENTER button and the button with the square on it, you can navigate through and adjust the features. The main menu lets you decide which features you would like displayed on the main menu – with the ability to choose up to four features.
If you are going on a trip and want to track your mileage or fuel usage, use the RESET button to reset your mileage and fuel usage to zero. Choose from Trip Computer, Range, Average Speed, Fuel Economy, Navigation (if equipped) and a host of other features that will give you an accurate reading on vehicles performance. RESET the fuel economy by highlighting the Fuel Economy listing then holding down the button with the square on it for more than one second.
Your Nissan Vehicle Information Display can also indicate the mileage of up to two separate trips, indicated as Trip A and Trip B. To navigate between Trip A and Trip B or to reset your trip mileage, you will find the TRIP RESET button on the left side of the instrument panel.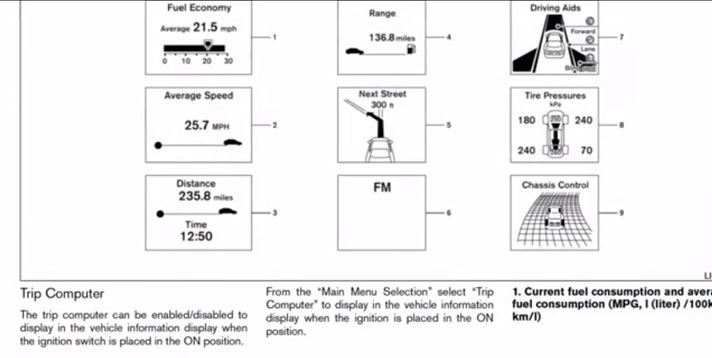 For additional questions about the Nissan Vehicle Information Display in your 2015 Nissan Rogue, be sure to check out your Owner's Manual. Your Owner's Manual will also inform you of important safety information, system limitations and additional operating information.